Concrete Test Rebound Hammer
Concrete Test Rebound Hammer also known as schmidt hammer, is widely used to determine in-place strength of concrete, accurately measure comprehensive concrete, strength, directly determines concrete
Product Recommendation
Product Introduction
Product Parameter
Product Picture
Product Comment
Introduction of Concrete Test Rebound Hammer
Concrete Test Rebound Hammer also known as schmidt hammer, is widely used to determine in-place strength of concrete, accurately measure comprehensive concrete, strength, directly determines concrete structures. load-bearing capacity and durability.
Trait of Concrete Test Rebound Hammer
1)Center rod of Concrete Test Rebound Hammer is made from imported material, high accuracy and durable resistance.
2)The shell is made form high Aluminum or high polymer material in order to perfect protect instrument from damage and extend use life.
3)Pointer slider is outside structure, its friction can be balance well and easy to be adjusted so that we can make sure that the instrument is accurate. Compared with other suppliers in the line of business, the product is more accuracy, good quality, and best price and longer use life.
Parameter of Concrete Test Rebound Hammer
| | |
| --- | --- |
| Test range | 10~60Mpa |
| Standard impact energy | 2.207J |
| Stroke of rebound hammer | 75mm |
| Friction of pointer slider | 0.5N~0.8N |
| Sphere radius of rebound pole SR | 25mm±1mm |
| Average rebound value on steel anvil Rm | 80±2 |
| Size | Φ54*278mm |
| Weight | ≈1KG |
Pictures of Concrete Test Rebound Hammer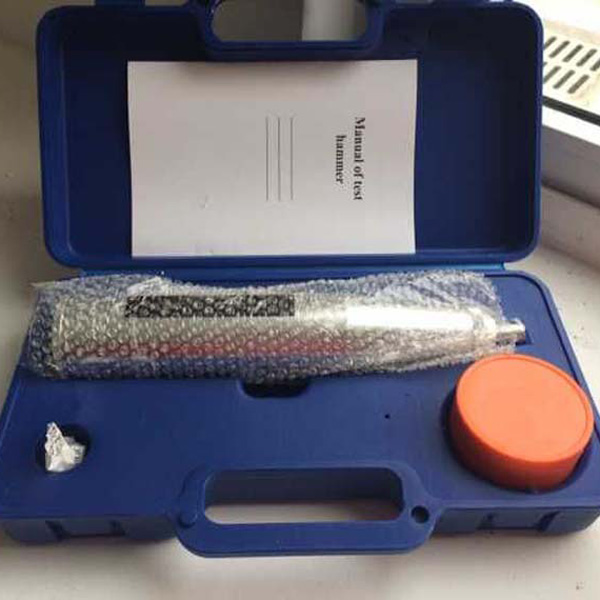 Your Name

E-Mail Address

Enquiry